British Baby Breaks Spanish Weight Record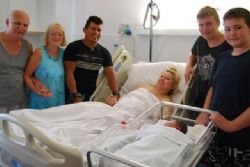 A British woman has given birth to the largest baby ever born naturally in Spain according to doctors.
The baby girl, Maria Lorena was born in Hospital Marina Salud in Denia, Alicante and weighed in at a massive 6.2kg (13lbs 11oz).
Mum Maxime Marin, 40 who lives in Spain with her Colombian partner, said she knew the baby would be big "but not that big". "I did not even need an epidural," Ms Marin is quoted as saying.
Maxime is used to larger than normal deliveries as her three other children all weighed at least 4.5kg (9lbs 14oz) upon birth.
Medics said Maxime had an uncomplicated delivery and Dr Javier Rius, the head of the hospital's department of obstetrics and gynaecology said "In my 40-year professional career I have never known of any case of a birth with this weight by natural childbirth. We are all very satisfied with the work which we carried out."
Large babies are usually delivered via caesarean section, but Mum and daughter are said to be doing well, although Maria Lorena remains in the neonatal care unit as a precaution given her beefy size.
The world's largest baby was born to Ana Bates of Canada in 1879 according to Guiness World Records. The tot weighed in at 10.5kg (23lbs 2oz) however died 11 hours after birth.
Unfortunately large babies often encounter complications at birth. In February 2013, Jade Packer from Gloucester in the South West of the UK gave birth to son George, weighing in at 7kg (15lbs 7oz).
Upon George's natural arrival, medics spent 20 minutes reviving the lifeless tot after which he was transferred to St Michael's Hospital special care baby unit in Bristol.
Fortunately, after 4 long weeks, George was discharged to his thrilled parents. However, whilst still in the womb, George had already outgrown his crib and all of his clothes.