Ciudad Real Airport Goes On Sale for €100 Million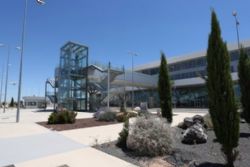 Spain's infamous Ciudad Real Airport has gone on sale for a bargain basement price of just 100 million Euros.
The privately owned white elephant airport cost more than €1 Billion to construct and despite a 4km runway, capable of handling the Airbus A380 super plane, cargo facilities able to process 47,000 tonnes a year and the capacity to handle 10 million passengers, the airport entered bankruptcy proceedings and closed less than 3 years after opening.
Built in 2008 and operational in 2009, Ciudad Real Airport was Spain's first privately owned airport situated almost 200km away from Madrid, however was expected to cater for both Andalucνa and the capital given both are reachable by rail in 50 minutes, although the anticipated AVE link is incomplete.
Surrounded in controversy amid allegations of illegal funding, the airport, which received its last commercial flight by Vueling Airlines in 2011, remained open for a further 6 months to cater for private aircraft with operations ceasing on 21st April 2012.
Since then, the airport has been vacant and almost all of the impressive facilities are in almost brand new condition.
Since its closure, the airport has been used as a test circuit by Lexus and as a film set by acclaimed Spanish film Director, Pedro Almodovar.
Riddled with debt, a judge overseeing the administration of the airport has ordered its immediate sale to pay creditors as quickly as possible. Creditors include those who had their homes compulsory purchased to make way for transport infrastructure, Air Nostrum and Air Berlin.
To date, bids have fallen well short of an acceptable value. In March 2013, Zaragoza-based Kriber Airlines offered €40 Million to buy the airport which was anticipated to create more than 1,500 jobs. Other offers for the airport were just for the surrounding land.
Since the financial crisis began, Spain fell victim to its own ambition. Billions of Euros were invested in ridiculous architectural and infrastructure projects such as libraries which no one uses or have little or no books at all and cultural centres which have never opened leaving tax payers to pick up the tab.
Left unchecked and unregulated, politicians were able to decide upon massive projects, mostly on a whim. As a result, Spain is left with a number of dubious airports with millions of taxpayer euros invested.
World famous Castellon Airport costs millions in running costs every year, however to date hasn't received any flights.
Likewise, Corvera Airport in Murcia has been completed, but lengthy delays have compounded an already difficult and delicate situation. Lengthy negotiations with San Javier Airport, flight path testing by AENA and a financial crisis by the owners have combined in preventing the airport from opening for commercial flights.