Spanish Government Accused of Smoke Screening the Public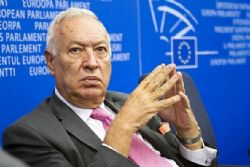 Spain's beleaguered Government has been accused of smoke screening the public over its spat with Gibraltar.
In an attempt to deflect attention from the Barcenas corruption scandal enveloping Spanish Prime Minster Mariano Rajoy, it is alleged the spat with Gibraltar was nothing more than a smokescreen.
Enric Hernandez, editor of El Periodico de Catalunya, a Barcelona-based newspaper posted on his Twitter page "Margallo and the right-wing media in punch-up over Gibraltar," adding "Excessive nationalism or a smokescreen (Barcenas case)?"
It's not the first time Spain's loud mouth nationalist Foreign Minister Jose Manuel Garcia-Margallo has come to the aid of his master and chief Rajoy.
In October 2012 when Catalan nationalists in Barcelona were pushing for independence from Spain, Garcia-Margallo told Scottish nationalists, pushing a similar cause, they'd have to "get in line" to rejoin the European Union if they opted to leave the U.K. in a referendum scheduled for 2014 and vowed to block any attempt to do so.
At the height of Spain's borrowing fiasco when interest rates exceed 7% sparking fears of a joint EU and IMF bailout, the loose cannon Foreign Minister verbally attacked Germany accusing them of benefitting from cheaper borrowing and lower exchange rates. Rajoy at the time was resisting tremendous pressure to accept an immediate bailout.
The minister compared European monetary union to the Titanic, the ocean liner that sank after hitting an iceberg in 1912, saying it would take down "first-class passengers" like Germany as well if it foundered.
"It's all about timing," Alejandro Quiroga, a lecturer in Spanish history at Newcastle University in northeast England, said in a telephone interview with online newspaper Bloomberg.com. "It's kind of suspicious."
Quiroga said Garcia-Margallo's protest was likely driven by Rajoy's political problems. The Gibraltar reef expansion was installed more than a week before the minister reacted, but just days after Rajoy admitted to Parliament of making a mistake over the Barcenas scandal.
The Gibraltar spat has helped push the Barcenas story down the agenda, even as Spaniards took to social media to denounce what they called a government attempt to steer news coverage away from its internal problems.
A Gibraltar resident told Tumbit.com that "Spain and Gibraltar have enjoyed mutual benefits over recent years, but with the arrival of the Spanish PP Government and especially Jose Manuel Garcia-Margallo, we are all in a period of uncertainty."
Ironically, Jose Manuel Garcia-Margallo used to be the congressional representative for Melilla, the disputed territory belonging to Spain on the northern tip of Morocco.
More than 10,000 Spanish workers in Gibraltar are fearful their jobs are at risk with the Spanish Government interfering with once excellent relations, under the previous socialist government, between the two territories.
The ruling PP Spanish Government has lost almost all of its opinion poll lead over the socialist party PSOE since news of the Barcenas corruption scandal involving the Spanish Prime Minister broke.