Morocco Protests Erupt Over Second Pardon Error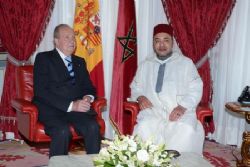 Protests in Morocco have erupted once again after news emerged of a second controversial pardon given by its King, Mohamed VI.
Over the weekend, there was outcry over the release of a convicted Spanish paedophile Daniel Galvan Vina.
Galvan was later arrested in Murcia, Spain after his pardon was revoked and an international arrest warrant was issued by Moroccan authorities following a large scale public outcry and violent clashes with Moroccan Police.
However, this time protests are over another Spanish national suspected of being a drug trafficker.
Mohamed Mounir Molina was arrested and awaiting trial, however his subsequent pardon and release without trial has sparked vicious protests and fury in Morocco after the media explained his alleged offences.
Both Galvan and Molina were among 48 jailed Spaniards freed on Throne Day in Morocco.
However, there is confusion over how Galvan was pardoned given his offences.
Spanish authorities have since said Galvan's name was not on a list sent by the King of Spain, however, Galvan, who is originally from Iraq, gained Spanish citizenship after spying for the Mediterranean country.
Make of this what you will, however it is unknown whether Mohamed Mounir Molina was also a former Spanish spy.