British warship to visit Gibraltar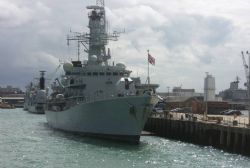 A British navy warship will sail to Britain's overseas territory of Gibraltar in the coming weeks, coinciding with a diplomatic row with neighboring Spain, although officials said on Thursday the trip was a routine and long-planned visit.
A centuries-old conflict over the British outpost boiled over in late July when boats from Gibraltar dumped concrete blocks into the sea to make a reef, and Spain created long delays at the border days later, with lengthy car checks.
Three British navy vessels, including the frigate HMS Westminster, will visit the outpost as part of an annual deployment known as "Cougar", Britain's Ministry of Defense (MOD) said.
"The forthcoming visit by ships making up Cougar 13, including HMS Westminster and the Royal Fleet Auxiliary ships Lyme Bay and Mounts Bay, are business as usual," an MOD statement said.
An MOD spokesman stressed the visit was not related to the border issues and said he was unable to confirm exactly when the ships would arrive at Gibraltar.
Spain's foreign ministry also called the visit "routine" and said the British government had asked for permission to stop over in Rota, southwestern Spain, where the Mediterranean country has a naval station.
"They asked for permission for the operation and in our relationship as allies, we granted it," a Spanish foreign ministry spokesman said.
British PM David Cameron and his Spanish counterpart Mariano Rajoy spoke on Wednesday and agreed to try and calm tempers over the disputed territory, though both sides were reluctant to back down on their positions.
Britain is focusing on the sovereignty of Gibraltar and its surrounding waters while Spain insists on its right to carry out checks to crack down on smuggling and avoid tax fraud.
Illegal trafficking and fishing rows have been among the biggest sources of conflict in the 1.2-km border between Spain and Gibraltar, home to close to 30,000 people, during Britain's 3 centuries of sovereignty over the area.
Extensive border controls have been turned on and off under different Spanish governments. Cameron's office said he had made Rajoy aware of the impending navy visit during their call.
"This is a routine visit that takes place every year and was scheduled well in advance," Gibraltar's defense spokeswoman Julia Wilde said.
A "Cougar" military maneuver also took place in 2012 and involved the same number of vessels visiting Gibraltar. British navy ships will also visit ports in Spain as well as Portugal and Malta, the MOD said.
Read previous news articles concerning the recent conflict over Gibraltar by clicking the link > HERE <