Spain reviews train safety after fatal crash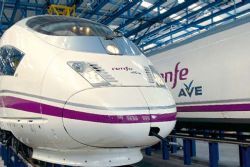 Spain is reviewing the safety of its rail system after a train crash in northwestern Galicia last month killed 79 people, Public Works Minister Ana Pastor said on Friday.
Excessive speed and human error have been blamed for the train's derailment at a curve on the outskirts of the northwestern town of Santiago de Compostela.
But the accident has also raised questions over the high-speed train network's signalling and security systems.
Speaking before a parliamentary committee, Pastor said she had hired auditors to review the maximum speed limit across every stretch of Spain's rail network to prevent such a tragedy from happening again.
"We will review all of the protocols and systems, the table of speed limits, everything," Pastor said.
Spain's railway network combines lines that are exclusively high-speed with sophisticated safety mechanisms and conventional lines, such as at the site of the Santiago crash, with less rigorous automatic braking signals.
Some high-speed trains use both types of rails, and drivers must switch back and forth between the 2 systems.
Spain has invested €45 billion over more than 20 years in building the world's 2nd biggest network of high-speed rail, which it has continued to expand despite economic stagnation and a wide budget gap.
Francisco Garzon, 52, who was driving the train that crashed on July 24, has been charged with negligent homicide and released without bail pending trial.
Read previous news articles concerning the Santiago train crash by clicking the link >> HERE <<