Spain Sees Industrial Production Plummet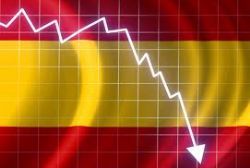 Industrial production in Spain plummeted 4.5 % in June this year when compared to June 2012, according to the Index of Industrial Production (IPI) published by the National Institute of Statistics (INE).
Industrial production also decreased 4.6 % month on month since May - the lowest rate over the last 5 years.
According to Xinhua, In the first half of 2013 industrial production fell by 3.8 % when compared to the same period of 2012.
According to the INE, industrial production fell in all sectors in annual terms except from capital goods, where it increased by 1.5 %. The others have seen their production decrease from June 2012 to June 2013.
Durable consumer goods, such as cars or buildings, saw a decrease of 16.3 %, while intermediate goods decreased by 5.7 %, especially chemical industry production.
Non-durable consumer goods production, such as drinks, food, clothes or shoes, fell by 7.2% in comparison with the same month of 2012, while, energy production decreased by 3.3% in annual terms.
June also repesented the 2nd consecutive month of decline of industrial production in Spain after an increase of 7.5 % in April.
The government expects the Spanish economy to gradually recover since Q3 of 2013 and see positive economic growth by the end of this year and beginning of next.
However, the IMF predicted that Spain would not register a growth until 2015.
Thursday also saw Spain's temporary agencies report employment will "slightly" increase in Q3 of the year via temporary and part-time contracts.
Experts consulted by the ECB predicted that euro zone's unemployment rate will reach 12.4% in 2014, while the economy will suffer a 0.6 % contraction in 2013.