Record July for Alicante Airport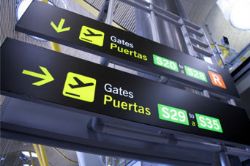 The recently renamed Alicante-Elche Airport recorded the highest number of passengers processed for any month of July, with a total of 1'176'814 passengers arriving at the facility last month.
This represents growth of 9.4% on July 2012, and an increase of approximately 2'250 passengers on the previous record July of 2011.
The Airport saw a total of 8'048 during the same month, representing an increase of 12.6% compared to July 2012.
In terms of countries, the UK saw the most recorded traffic for the month of July, with 519,945 passengers, Spain with 104,923, Norway with 96,233, Germany with 85,087, and Sweden 60,239 passengers.
In terms of growth, Russia came in first place with an increase of 67.16% on July 2012, followed by, Denmark (65.72%), Poland (48.72%), Finland (45.32%) and Norway (34.35%).
Countries with the most flights to Alicante during the month of July were UK, with 3,247 flights, domestic Spanish flights with 1,144, Norway with 634, Germany with 504 and Holland with 385.
For 2013 to date period a total of 5,424,599 passengers have passed through the airport - representing a growth of 7.4% more than in the same period of 2012.
The number of flights recorded over the same period increased 7.2%, to reach 38,579.
Meanwhile, the number of passengers and flights processed at neighboring Corvera International Airport still stands at zero.
Recommended Reading
• Change of name for Spain's Alicante Airport
• Alicante Airport : Two fingers up to Corvera
• Corvera Airport : Complete News Archive