Ryanair sues Channel 4, Mirror and Mail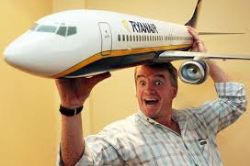 Ryanair's legal team has released a statement confirming they have begun legal proceedings against Channel 4, Associated Newspapers and the Mirror Group.
Paul Tweed, the Senior Partner at Johnsons Solicitors, said how the Airline had taken extreme exception to libelous allegations made by Channel 4's 'Dispatches' program of last weekend, together with report in the Mirror and Daily Mail Newspapers.
The report called into question Ryanair's attitude to safety, with specific regard to their fuel policy.
Earlier this week the airline called into question the reliability of the 'Ryanair Pilots Group' survey, revealing the the so-called Chairman of the Group was not, nor had been a Ryanair Employee.
Recommended Reading
• Ryanair hits back against safety slurs
• Which? Compares Airlines flying to Spain
• Spain reports on 2010 Ryanair fuel incident