Catalan separatists side with Gibraltar against Spain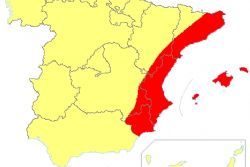 One of the main pro-independence parties in Spain's northerly Catalonia region has fuelled the country's growing row with Britain over Gibraltar after expressing sympathy with "bullied" residents in the British territory.
The separatist Esquerra Republicana party (ERC), a junior coalition partner in the Catalan regional government, wrote to Gibraltar Chief Minister Fabian Picardo deploring the "improper" behaviour of Spain's central government.
Tensions over the disputed British outpost on Spain's southern tip rose in late July amid a spat over fishing rights and border controls and are now at their highest level in years.
While Catalan support for Gibraltar's position is unlikely to have any influence on the outcome of negotiations between Britain and Spain, the letter is a reminder of the political rifts the Spanish government faces elsewhere – and of the risk that its tough stance on Gibraltar could backfire at home.
"We most sincerely regret the improper bullying and harassment that the Spanish government is applying on the citizens whom you democratically represent … in order to divert attention from its own internal political and financial scandals," Alfred Bosch, leader of ERC in the Spanish parliament, wrote in the letter to Picardo.
The letter, written in English and Catalan, was dated August 12 but was released to the media on Tuesday.
The left-leaning ERC doubled its presence in the Catalan parliament in November after attracting 14% of the vote in a regional election.
Bosch is known for his often outspoken views and combative stance on Catalan independence – to which Spain's central government is strongly opposed.
Spanish PM Mariano Rajoy and his centre-right Partido Popular have already been accused by other opposition parties of using the Gibraltar row to distract Spaniards from economic woes and a corruption scandal.
The conflict has escalated so much that Britain warned Spain on Monday it might take legal action to try to force Madrid to abandon tighter controls at the border with Gibraltar.
Bosch likened Gibraltar's situation to that faced by Catalans, where many parties are pushing for a referendum on the territory's future.
"We are convinced that the only solution to the issue of the Rock, as with the issue of Catalonia, is through dialogue, suffrage and the principle of self-determination," Bosch wrote. "Your freedom is our freedom," he added.
Recommended Reading
• Gibraltar : Entire News Archive
• Spain to veto Scotland entry to EU amid Catalonia fears
• Madrid threatens legality of Catalonia Independence