Mysterious Animal Appears on Almeria Beach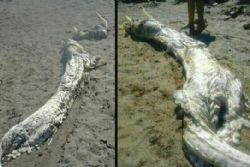 Bathers in Almeria where stunned and surprised after the remains of a mysterious animal where washed up onto the beach and prompted an emergency response.
The mysterious animal, thought to be a fish of some kind, was found by bathers on Thursday afternoon last week, on Luis Siret beach in Almeria and measured almost 5 meters long.
Already in the advanced stages of decomposition, Civil Protection services cordoned off the area and sought assistance from Nature Protection Services (SEPRONA) and the Marine Defence Association (PROMAR).
The mysterious beast like animal, which resembles something normally seen in the movies, has yet to be identified.
Photographs have been sent to a series of experts in an attempt to identify the animal, however DNA testing is likely to prove inconclusive by the time any tests are carried out as no official department is willing to pick up the tab.
As a result, the remains were buried after being studied by PROMAR and SEPRONA.