Spanish Foreign Minister Writes Controversial Article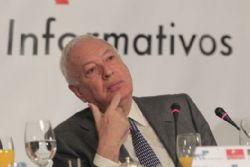 Jose Manuel Garcia-Margallo, Spain's outspoken Foreign Minister, has written an article about Spain's position regarding Gibraltar.
Margallo wrote the article for the Wall Street journal's online edition, in which he states Spain complies with all its international and European obligations, but claims neither Britain or Gibraltar do.
The one sided and biased article, surprising published by the WSJ, attacks Gibraltar over it's money laundering activities, tax haven status and environmental crimes. In particular, Gibraltar's actions of dumping 70 concrete blocks into the Bay of Algeciras which Spain says, is an environmental disaster.
In his article, Margallo specifically states his concerns over smuggling from Gibraltar, which in previous comments and interviews has said it has not been appropriately controlled by the Gibraltar authorities.
According to his figures, between 2010 and 2012, seizures of contraband cigarettes rose by 213% and claimed the cause being Gibraltar is not part of the EU customs territory nor does it apply the EU system of VAT and excise duties.
Additionally, Margallo states Spain complained to the EU Commission about what it felt was illegal and incompatible state aid from Gibraltar given to offshore companies via its corporate tax regime.
Spain, in it's 5th year of economic crisis and fast approaching a 6th, is being criticised for creating a smokescreen over the Gibraltar issue, in an attempt to divert attention away from it's economic problems at home and corruption scandals surrounding the current conservative Popular Party government.
Recommended Reading
• Wall Street Journal Article: Jose Manuel Garcia-Margallo
• Spanish Black Market Economy Reaches 20% of GDP
• WIKI: Disputed Status of Gibraltar