Britain rejects Spanish request for Gibraltar talks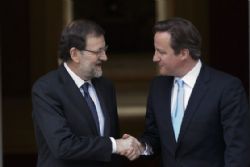 Britain rejected a Spanish proposal to hold one-on-one talks over the sovereignty of the contested British overseas territory of Gibraltar on Tuesday after Spain issued an appeal for such negotiations to be held "as soon as possible".
Spanish Foreign Minister Jose Manuel Garcia-Margallo made the appeal in the Wall Street Journal on Tuesday, but a spokeswoman from British PM David Cameron's office said London would not enter into any talks on the subject.
"Sovereignty is clear in our minds," said the spokeswoman, saying the only talks Britain could envisage would be between Spain and Gibraltar over fishing practices, but not over the enclave's sovereignty or control of its fishing waters.
A diplomatic war of words over the rocky Mediterranean outpost erupted in July after it built an artificial reef in contested waters using concrete blocks. Spain said the reef restricted access for its fishermen.
Spain lays claim to the territory, which has a population of just 30,000, but which it ceded to Britain by treaty 300 years ago.
"Since the beginning of the current legislature, the Spanish government has urged the UK to resume bilateral negotiations as soon as possible on issues of Gibraltar's sovereignty, which have been on hold for too long," wrote Garcia-Margallo.
Spain tightened border controls in retaliation for the reef and threatened to take further action, including a €50 border levy. The European Commission said on Monday it would send a fact-finding mission to Gibraltar to examine the legitimacy of those controls.
SMOKESCREEN ALLEGATIONS
Opposition parties in Spain and Gibraltar's Chief Minister Fabian Picardo have accused Spain's ruling center-right government of using the conflict as a smokescreen for a corruption scandal involving senior politicians.
Garcia-Margallo reiterated PM Mariano Rajoy's demand for Britain to remove the blocks used for the reef. He said Spain was also open to hosting meetings on the topic between other authorities, like the Gibraltarian government and the local government of neighboring Spanish region Andalusia.
"The dialogue must be bilateral and respect international, European and national laws," he said.
But the British spokesperson made it clear any talks would be limited in scope.
"There needs to be some dialogue on fishing," the spokeswoman said. "But that would not be about who's responsible for the waters as that's clear." Another British spokesman said on Monday that Spain had built similar reefs along its own coastline.
Long queues have formed at the border in recent weeks as the rift over the reef has escalated. Gibraltar is not part of the Schengen open border agreement between some EU member states, meaning Spain is entitled to carry out proportionate checks.
Garcia-Margallo highlighted Spain's concerns about the British territory, including Gibraltar's opaque tax regime and said Spain had initiated proceedings to denounce bunkering, or refueling ships at sea.
The minister said smuggling was also a worry as EU excise duties do not apply on the rocky outcrop.
Spain has threatened to take its claim on Gibraltar to the UN.
Read previous news articles concerning the recent conflict over Gibraltar by clicking the link > HERE <