Ryanair slated for refusing toddler on flight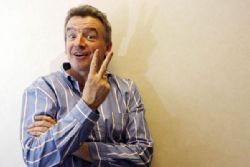 A court in Palma de Mallorca has ruled that Ryanair must pay out €1,222.26 in compensation to a family refused boarding on a flights due to not accepting the identity documents of their three-year-old child.
The case, referred to the courts by the state air service, dates back to January 2011, when a married couple and their three-year-old son were attempting to fly form Barcelona to Ibiza for a break.
The family presented check-in staff with the Spanish Libro de Familia and a certificate of residency for the child - both of which are sufficient documentation under Spanish aviation law.
However, Ryanair refused to accept either document, demanding instead a passport or Spanish identity card (DNI).
The court ruled that the airline must pay compensation to cover the cost of the new flights the family had to pay for, the hotel room they needed while stranded in Barcelona, and the day of work missed by the husband as a result of the incident.
This is not the first occasion whereby Ryanair has refused boarding due to failing to recognise such documentation. In each case Ryanair have argued that the requirements are clearly stated in their terms and conditions that when booking flights, whilst the courts have always ruled that this does not preclude Spanish law.