Corvera and Castellon : I hope you are embarassed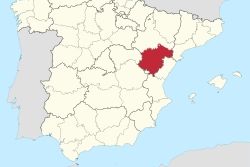 You can forget all about the race between Spain's Castellon and Corvera airports in being the first privately owned facility to become operational, following the closure of the only previous privately owned airport in Spain, Ciudad Real.
Teruel, located in Aragon, North Eastern Spain, has been chosen by Tarmac Aerosave - a French aviation company - as being their new base of operations.
According to El Pais, it is here that the company will store, recycle, salvage and maintain various aircraft. With capacity of 225 aircraft at it's Teruel site, and 275 aircraft at various other sites in France and Spain, this will firmly establish Tarmas Aerosave as being the largest such company in Europe.
The new facility will be compete for business with the USA, as traditionally aircraft from the EU had to be flown across the Atlantic for maintenance and overhaul work to be carried out.
The facility has a 2,825-meter runway (Compared to 4'000 mt at Ciudad Real - Spain's longest after Madrid-Torejon),and can accomodate suborbital aircraft, which can fly up to 90 miles into the stratosphere.
The airport's director, Alejandro Ibrahim, has confirmed that the facility has been in talks with a number of companies offering 'Space trips', including Virgin Galactic, who already have offices in the USA and are seeking to establish a European base.
Teruel is the highest-altitude airport in Spain and has a very low volume of air traffic, two other features that are essential for this purpose.
"Short suborbital trips are set to become the tourism of the future and many European and US-based companies are also already researching the possibility of air-travel via space to cut down journey times of long-haul flights," says Ibrahim.
Teruel is in one of the most under-visited areas of Spain, and without a major rail network to Madrid, prompting a campaign under the slogan "Teruel exists !" to draw attention to itself. The airport itself is around 340 Hectares in size (3.4 Million sq mts),around one-third of the size of Barajas.
By Comparison Castellon has a runway length of 2700 mts (the same as Teruel) and a footprint of 542 Hectares. the website of Aerocas (the concession holder of Castellon airport) even hints that the runway 'could' be extended to 4'000mts.
Perhaps they should reign in their ambitions and concentrate on walking before running ?
Meanwhile Corvera Airport boasts a runway length of 3'000 mts, but a footprint which offers little potential of expansion of around 2.5 Million sq mts.
Perhaps one notable difference between Teruel and the 'White Elephant' facilities in Spain is that aircraft have already begun to arrive at the facility, with the first Boeing 747 touching down on Thursday of last week. No fuss, no Bullshit, no broken promises by a spokesperson from the regional government...
Tarmac Aerosave has taken the lease on the airport until 2038, and its French parent company, in which Airbus has a stake, will pay €1.25 million per year to the regional government over the next 25 years. The company will also cover the €4.2-million cost of paving the site.
It is also estimated that the operation will result in the creation of around 100 jobs over the next 6 years, and generate around €600'000 in taxes.
In a very short period of time, and with little fuss and few hiccups, it seems that it will be possible to fly from Spain to Space, yet after several years it is still not possible to fly from Luton to Corvera, or Gatwick to Castellon.
Recommended Reading