Spain's fall in unemployment "Not Seasonal" : Minister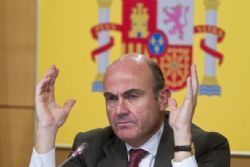 Spain's Minister for the Economy, Luis de Guindos, has commented how the country's rate of unemployment will fall below the 27.1% forecast in an economic stability program requested by the EU earlier this year, while also predicting the country would emerge from recession in the second half of the year.
De Guindos also spoke of his confidence that the fall in in unemployment to 26.2% in Q2 was not a seasonal trend but something which would continue throughout the remaining months of 2013.
Meanwhile, the IMF holds that Spain needs a significant reform of the labour market to make it easier for companies to fire employees in order to encourage them to create more jobs.
However, the Minister insisted that reforms made to date have had an impact in increasing competitiveness and slowing the rate of job losses.
De Guindos also predicted that the economy, buoyed by a dynamic tourism sector and higher exports, would emerge from recession in Q3.
Recommended Reading
• Spain 'could be' 3rd most visited country in 2013
• Spain's trade deficit plummets in June
• Spain's total Tourism expenditure up 6.6% 2013 to date