Almost 1.7 Billion Euros in Pesetas in Circulation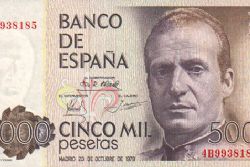 Almost 1.7 BILLION Euros in pesetas are still in circulation according to the Bank of Spain.
The peseta, Spain's former currency, was phased out in 2002 after the nation joined the single currency on January 1st 2002 along with 12 other EU nations.
Since March 2002, pesetas could no longer be used as legal tender but could be exchanged in banks until June of the same year. From that point on, pesetas could only be exchanged in person at the Bank of Spain.
As Spain's financial crisis began to bite in 2008 and with millions of pesetas still in circulation, several establishments began to accept the peseta once again knowing they could exchange the currency back into Euros.
Whilst some pesetas are likely to be held by collectors, it is believed some are kept by Spaniards as a keepsake and opportunists believing the face value could increase over time.
Tourists are also likely to hold a vast amount, unable to exchange back into their own currencies at a favourable rate or simply just memorabilia of their Mediterranean holiday.
The Bank of Spain estimates there are more than €874 million in notes and around €807 million in coins stashed away, which has provided a much needed economic boost for companies trying to survive Spain's worst recession in history.
When the Euro came into circulation, Spaniards were allowed to exchange their pesetas in banks up to a certain limit, before being quizzed about its origins.
Spain has a massive 'Black Money' economy, 'cash in hand' to avoid tax, which as a result left many Spaniards with thousands of pesetas they couldn't exchange into Euros, so instead chose to invest in property, buy shiny new cars and renovate their properties to avoid detection by the tax man.
Many Spaniards held onto their pesetas after discovering they could exchange them for Euros until December 31st 2020.
According to the Bank of Spain more than 2 billion pesetas were exchanged for roughly 16 million Euros in 2012. In July this year, 2 million Euros were dished out for 333 million pesetas.