Cameron affirms UK support for Gibraltar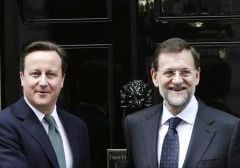 David Cameron has promised that the UK would not stand idly by as Spain continued to threaten the sovereignty of Gibraltar.
The UK's Prime Minister met with Gibraltar's Chief Minister, Fabian Picardo, in Downing Street yesterday to discuss the on going conflict with Spain, assuring hi guest how the UK "Would always stand up for Gibraltar".
Picardo thanked him, saying: "The people of Gibraltar know they have a friend in David Cameron and William Hague". He continued to say how "That Gibraltar continues to be on your mind means a lot to us."
A Downing Street spokeswoman said how the Prime Minister "repeated his commitment to stand shoulder to shoulder with the people of Gibraltar.
Aside from being home to around 30'000 UK Citizens, around 10,000 Spaniards cross the border to work on the rock each day.
Earlier this week Spain's Deputy PM, Soraya Saenz de Santamaria, said how despite currently strained relation, Spain still enjoyed a good relationship with the UK.
Whilst the Deputy spoke of Spain's interest in maintaining talks over the subject of Gibraltar, she could not resist stating how Spain is keen to resolve the issues surrounding the high incidences of "smuggling, illegal bunkering and money-laundering" on the rock.
Read previous news articles concerning the recent conflict over Gibraltar by clicking the link > HERE <