PP Support falls by over 60pct : Poll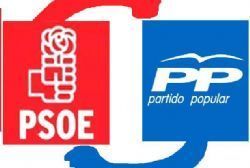 Just 1 in 3 voters who swept the PP into power in the 2011 general elections would cast their vote the same way today, according to the latest Metroscopia survey carried out for EL PAÍS. The ruling party, which has an absolute majority in Congress, would therefore see its support eroded from the 44.6 % it won in November 2011 to a projected 23% of the ballot now, according to Metroscopia.
With European parliamentary elections looming next May, the party hierarchy fears a setback of epic proportions and has already initiated a campaign to win back disaffected voters with the prime minister's announcement in Galicia on Saturday of tax reliefs to come into effect just before May 2014. Agriculture Minister Miguel Arias Cañete is expected to be put forward for the European elections, largely as he is the most valued PP politician according to recent surveys.
"Punishment by the middle classes is intense," noted former conservative leader José María Aznar in May. Rajoy is expected to schedule a party conference in the next few months in an attempt to win back its voter base.