Spain tables pension reform plan tied to life expectancy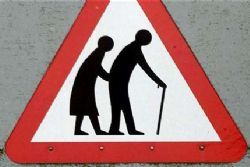 Spain is pushing for state pension reforms that would link payments to life expectancy and to economic cycles, without raising the retirement age, employment minister Fatima Banez said on Monday.
The proposals, which the government presented to unions on Monday, would include de-linking pensions from inflation as of next year, tying them instead to a more complex formula that also takes into account the system's revenues.
Spain is under pressure from Brussels to shake up its pensions system by the end of 2013, to help it fix imbalances in its economy and as soaring unemployment puts an unprecedented strain on social security funds.
Despite recent changes restricting early retirement, an aging population and a low birth rate have also added to Spain's headaches and the ruling People's Party (PP) is now pushing for broader changes to make the pensions system more sustainable.
Banez told a news conference that the government was proposing the introduction of a floor on cuts in pension payments, so they cannot nominally fall, as she defended changes likely to be unpopular with key part of the electorate.
The government also wants a ceiling that would prevent pensions rising more than 0.25% above inflation.
"The (proposal) guarantees dignified pensions for the pensioners of today but also to the pensioners of tomorrow," Banez said.
Pension plans would also be linked to life expectancy as of 2019, Banez added.
The number of people contributing to state pensions has fallen to its lowest level in a decade after nearly 6 million Spaniards lost their jobs and stopped paying into the system, which supports 9 million pensioners.
That forced the government, which is still struggling with a recession and budget cuts as it tries to reduce its deficit, to twice tap its social security reserve fund in July to help with extra summer retirement payments.
Spain's center-right government now has to try and firm up the plans after talks with unions and opposition parties.