There's only one Gareth Bale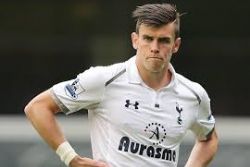 Gareth Bale : The former Tottenham Hotspur - and now Real Madrid - Football Player has broken all former record in his transfer to the Spanish side for the sum of €100 Million (£86 Million).
A lot of money for what is basically kicking a ball across a pitch, and money that Spain - in the grip of it worst recession in living memory - could possibly spend on better things.
So what could €100 Million mean to Spain if spent elsewhere?
* The Santiago de Compostela Train crash : It was recently reported how the Government was considering making compensation payments of €1 Million for each fatality, and 'up to' €146'000 per injury (depending upon severity).
1 x Gareth Bale = Compensation for all 79 Fatalities & 143 Injuries
* Hospitals : The Provincial High Court of Madrid recently ruled that any party interested in bidding to operate the city's soon-to-be privatised Hospitals must come up with a 5% guarantee.
1 x Gareth Bale = 4 x Guarantees
* Spain's trade deficit : Despite falling from a whopping €2.2 Billion the year before, and Standing at €106 Million at the end of June.
1 x Gareth Bale = 94% of Spain's trade deficit.
* Airports : Ok, so we have plenty of ammo here as far as Spanish airports are concerned :
1 x Gareth Bale = 100% of Ciudad Real Airport - recently put up for sale at €100 Million
1 x Gareth Bale = 51% of €197.2 Million loan repayment for Corvera International Airport.
1 x Gareth Bale = 78% of the €128 Million reported to have cost the Valencian taxpayer for the construction and 'ahem' operation of Castellon airport.
* Iberia Airlines :Financial losses of €98 Million in 2011/12 widened to €358 Million in 2012/2013.
1 x Gareth Bale = 28% of Iberia losses.
* The CEO of said above airline. When 'asked to leave' the airline he was entitled to a 'Golden Parachute' payment.
1 x Gareth Bale = 60 Rafael Sanchez-Lozanos'