Expats in Britain dislike weather, sarcasm and drinking culture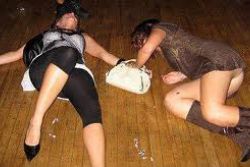 Many of the things that expatriates living in Britain dislike the most are the same reasons that a large proportion of Brits have left the country to live elsewhere.
A recent study carried out by GlobalVisas.com found that bad weather, a sarcastic attitude and heavy drinking were the most common complaints of foreigners living in the UK.
More than half of those surveyed said that the British stereotype rang true in some way, even if it as cliched as drinking tea regularly.
Some elements of British culture, such as its manners and the preoccupation with queuing were welcomed, but nearly half stated excessive drinking as their least favourite trait.
A further 31% of the 1,402 expats polled said that they were not keen on the sarcasm they often encounter.
The expats surveyed originate from diverse parts of the world and 68% said that they enjoyed living in Britain.
Liam Clifford, from GlobalVisas.com, the website that conducted the research, said: "Moving to a new country poses many challenges.
"You might think you know all about a place from holidays and previous trips there, but actually living in a country puts an entirely different perspective on it.
"The majority of nationalities have stereotypes fitted around them and Brits don't escape this."
Britain's climate was the most off putting element with 38% of people citing it as the thing they disliked the most.
Nearly 1/3rd of respondents did not like British culture, while a 1/5th did not like the food on offer in the UK.
Many people think that they know what Britain is all about before starting a life in this country, but stereotypes can be both bad and good.
It is important to try and look beyond these preconceptions to get a good idea of the place that you are moving to. This will allow you to make the most of your new life.