Barcelona Football Club Lionel Messi Plays for Madrid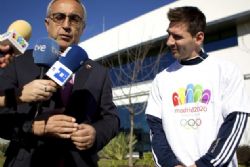 Leo Messi, Barcelona Football Club's star striker, has decided to play for Madrid after much speculation suggesting he refused a position.
Barca fans can relax though, as he has only lent his support to the Madrid 2020 Olympic host city bid, not Madrid Football Club.
Wearing a t-shirt with the Madrid 2020 Olympic logo and probably the only time the FIFA World Football Player of the Year winner will ever wear a Madrid shirt, he said "I think it would be good for sport to award Madrid the Games and I support their bid from here."
Speculation had been rife that he wasn't behind the bid because he is a brand ambassador for Turkish Airlines, one of the main backers of the Turkish Istanbul 2020 Olympic bid.
Alejandro Blanco, Spanish Olympic Committee President, dismissed these rumours saying "He never declined to support the Madrid bid" adding "There was a timetable issue because he was training."
Blanco said "It is a great honour for us to have his support, for what he represents as a sportsman and I think more importantly for what he represents as a person for the entire world."
Spanish basketball superstar and Los Angeles Lakers' forward Pau Gasol has also lent his support and backing to the Madrid 2020 bid amongst many other Spanish sporting celebrities.
The International Olympic Committee is due to vote in a secret ballot on Saturday, 7th September and with just a few days to go, it is hoped Messi's backing and support will further bolster the Madrid 2020 Olympic bid before the crucial vote in Buenos Aires, Argentina.
Recommended Reading