Murcia could make Corvera Airport decision today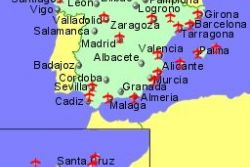 The The Minister of Public Works, Antonio Sevilla, is due to present his proposal to the regional government of Murcia later today, to suspend the licence for Aeromur to hold the concession for Corvera Airport.
The Government will examine the report in detail before making a decision either later today, or in next Friday's weekly meeting.
Sevilla has previous proposed that the contract between Corvera Airport and Aeromur, led in majority by SACYR who were the main contractor behind the construction of the facility, should be terminated due to their failure to meet agreed deadlines.
Other unnamed sources within the regional government believe that Aeromur should appeal against this decision.
Just yesterday the Minister commented how there was still sufficient time for new contracts to be awarded for the operation of the airport before the 31st December deadline, but the the appropriate legal steps must still be taken.
Although the process to examine the various tenders, and liaise with a number of regional and national government ministries must still take place before obtaining the permits, Sevilla said he was Confident that Corvera Airport will open by Summer 2015.
However, in order to make the bid process easier and more attractive for interested parties, the region is keen to push for the the closure of San Javier Airport to be synchronised with the opening of the new facility.
The Regional Government is therefore working with both AENA and the Ministry of Defence to cease all civilian and commercial traffic at San Javier Airport and leave the facility exclusively for Military use.
This just leaves the tiny and insignificant issue of the €70 Million in compensation AENA are claiming for the recent investments made in improving San Javier Airport.
Recommended Reading
• Corvera Airport : Entire News Archive