Paramount Murcia : All eyes on September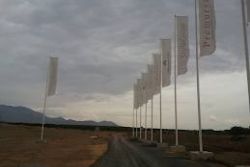 September.
Whilst it had been previously announced that work would commence at the Paramount Pictures Theme Park site in Alhama de Murcia, subsequent news has pushed this date back to "October or November".
However, two important and self-imposed deadlines floated by the Regional Government of Murcia in recent weeks, with regards to the project, "should" still take place at some point this month.
On the 23rd of June, Jesus Samper, President and CEO of Proyectos Emblemáticos Murcianos SA (Premursa) - the Constructor and Promoter of the park - announced that a total of 11 companies had "Expressed their Interest" in tendering for work at Paramount, ant that "Contracts will be awarded in September."
Meanwhile, on the 1st of August Regional Minister for Culture and Tourism, Pedro Alberto Cruz advised a press conference how the final details of the Paramount Theme Park project would be unveiled to the public "in September".
Anybody still holding their breath ?