Galicia Train Crash Driver Admits Speeding During Phone Call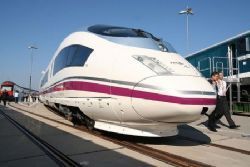 Details of a phone call made by Francisco Garzon, driver of the derailed high-speed train which crashed in Galicia in July, have been released.
In the phone call, made immediately after the crash which killed 79 people and injured hundreds more, Garzon openly admits he was driving the train too fast.
The dazed driver is heard telling the operator "There must be many injured, it (train) has turned over, I can't get out of the cabin."
He goes on to explain that the accident occurred "Because I got distracted and I had to be going at 80 but I was going at 190, something like that...", which means that he was traveling at twice the permitted speed.
Although injured, Garzon calls for the emergency protocol to be activated just moments after the Alvia train had derailed at up to 119mph and smashed into the wall before catching fire.
Despite admitting his excessive speed, Garzon also complains that he had told RENFE Bosses of the "inhuman curve" where the derailment occurred on previous occasions.
Garzon has not been detained in custody, but has been charged with "Negligent Homicde" pending a full investigation.
57 of the passengers remain in Hospital, 11 of them in a critical condition.
Read previous news articles concerning the Santiago train crash by clicking the link >> HERE <<