Spain "Should give Economy lessons to EU" : Montoro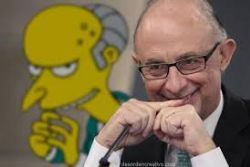 Cristobal Montoro - Spain's Minister of Finance and Public Administration (yes, there really is one !) - has finally cracked and proved to all that he is one step away from the Twilight rest home for the terminally deluded.
Montora was addressing delegates at a speech in Valencia titled "The Potential of Spain", when he commented that "Spain is currently experiencing a a phenomenal recovery, at a rate than nobody had predicted".
He went on brag how the prediction was for this continue over coming months and that "Spain could give lesson on Economic stability to Europe and the rest of the world".
"We are moving at a speed beyond all expectations," he added."
The Finance Minister also acknowledged that additional funding vehicles put in place to stimulate growth of the Economy had not yet reached entrepreneurs at grass-roots levels.
Before he could given a milky mug of tea and wheeled into the conservatory, Montoro went on brag that "Spain's new labour reforms lead the way in Europe" and that the Government's relationship with the Unions "is one of the best in world". Presumably meaning that the Unions get their own way most of the time and so have little cause to be disruptive.
Montoro finally managed to get back on topic with the theme of the conference, by telling delegates that "Valencia is a land of entrepreneurs" and the the Region "is driving the economic recovery of Spain".