Spain offers support to Argentina over Falklands claim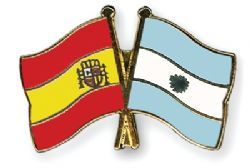 In yet another act of defiance, Spain's Foreign Minister Jose Manuel Garcia-Margallo, has spoken of how "Argentina can count on Spain's support to regain the Falkland Islands".
The Minister was speaking during a visit to South America, where he used the opportunity to gather support for Spain's ongoing quest to take sovereignty of Gibraltar away from the UK.
"The similarities are enormous," Mr Garcia-Margallo said from Montevideo, Uruguay adding that both Gibraltar and Falklands were in need of "decolonisation."
Britain has taken a similar stance on the subject of both Gibraltar and the Falkland Islands - that the people themselves have opted to remain under the British flag, and as such the Government of the UK will honour that decision.
Whilst Garcia-Margallo was quick to see parallels with Argentia's attempts to wrest the Falklands from the UK, strangely he neglected to mention the similarities in Moroccoo's attempts to regain the Spanish enclaves of Ceuta and Melilla.
That's before we get onto the subject of why he is offering to support a country who stole Repsol from Spain.
Read previous news articles concerning the recent conflict over Gibraltar by clicking the link > HERE <