Madrid pleads case for 2020 Games, vote looms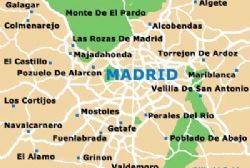 Istanbul, Madrid and Tokyo made impassioned pleas to the International Olympic Committee on Saturday to entrust them with hosting the 2020 summer Games.
Japanese PM Shinzo Abe emphatically promised the crippled Fukushima nuclear plant would have no negative effect on Tokyo, while his Turkish counterpart Tayyip Erdogan urged the IOC to choose Istanbul and help "send a strong message of peace to the whole world".
Madrid emphasized it was ready, dependable and safe, with PM Mariano Rajoy telling members "numbers don't lie".
After 2 years of intense lobbying and tens of millions of dollars spent, the three cities have just a few hours left to convince the IOC they are the best choice as host.
But with each city wrestling its own demons, the usual beauty parade has become a "least ugly" contest as they frantically attempt to conceal their blemishes and win the right to host the world's biggest sporting extravaganza.
Ninety-five IOC members are expected vote in the first round, due to start at 3.45pm local time (2:45 p.m. ET), after two were excused. Should a city not obtain an outright majority of votes, the candidate with the least votes will be eliminated and the 2 remaining cities will go head to head in a second round.
FUKUSHIMA CONCERNS
Predictably the Japanese team was forced to fend off concerns about the Fukushima nuclear plant 230 km (140 miles) from Tokyo after the plant's operator admitted that hundreds of tonnes of radioactive water are pouring into the Pacific Ocean each day, and radiation levels have spiked.
Abe's government said this week it will spend almost half a billion dollars to try to fix the water crisis and on Saturday he told the IOC that it would not be a problem.
"Let me assure you the situation is under control," Abe said. "It has never done and will never do any damage to Tokyo.
"There are no health-related problems until now, and nor will there be in the future - I make the statement to you in the most emphatic and unequivocal way."
He later told reporters: "I explained about the safety of Tokyo. There were some misunderstandings but I explained the situation. I explained about the water contamination in Fukushima and explained that the contaminated water was blocked.
"Yes please come to Japan. You can be assured."
Tokyo hosted the Summer Olympics in 1964 and the bid team stressed a proven record.
"Choose Tokyo today and you choose a nation that is passionate, proud and a strong believer in the Olympic movement and one which wants to work with the IOC to make the world a better place through sport," Abe said.
ERDOGAN PEACE PLEA
Like Abe, Erdogan flew 16 hours through the night to get to Buenos Aires so he could personally address the IOC after spending the past few days at the G20 Summit in Russia, discussing the Syrian crisis with other world leaders, including U.S. President Barack Obama.
He did not specifically mention Syria or the Taksim Square riots earlier this year in his presentation to the IOC, but said awarding the Games to Istanbul could be a catalyst for change in the Middle East.
"If the Olympic Games are hosted in Turkey, where the majority of the population is Muslim, it will send a message to our whole region, which so needs peace," Erdogan said.
Just as they had with previous bids, Istanbul leaned heavily on the fact it straddles 2 continents, Europe and Asia.
The bid team highlighted the country's surging economy and the government's commitment to the Games and pledged a crackdown on doping after a recent increase in positive tests by Turkish athletes.
Madrid is pitching a manageable, low-cost, financially responsible Games in a bid that should play well with the IOC.
SAFE MADRID
Spain's Crown Prince Felipe, who was mobbed by IOC members during a break in the morning's session, said: "After the Barcelona Games in '92, Spain was bursting with pride and with accomplishment.
"With all my heart I really want our young people today to feel the same way. We need it now and we need it for the future," added the Prince, who sailed in the '92 Games.
"Believe in us like we believe in you. Madrid now, more than ever, makes sense."
The Spaniards have been stressing that, with much of the infrastructure already in place, it will be the first time a projected Games budget of some €2.35 billion exceeds investment of just under €1.53 billion in projects linked to the hosting of the event but not directly related.
That compares with Istanbul's massive non-Games budget of around €12.9 billion, dwarfing expected Games expenditure of €2.2 billion. Tokyo is also planning to incorporate existing venues and has estimated a non-Games budget of around €3.34 billion compared to €2.58 billion for the actual event.
Rajoy said: "Madrid offers a safe, solid and reliable bid.
"Madrid has always and will always keep its promises. 80% of the necessary investment has already been taken and what remains is guaranteed. Madrid can host the Games in 2020 without any risk at all the Olympic movement.
"Madrid is eager to be your partner. Madrid makes sense - now more than ever."
Recommended Reading