Judge orders divorcing couple to split home down the middle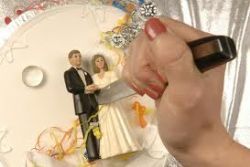 A judge in Seville has taken the principle of divide and rule to a new frontier in a divorce case settlement by ordering a couple to split their home down the middle, despite the property belonging to the parents of the husband.
In her ruling, the family court judge noted that the 250-square-meter apartment is in reality two conjoined abodes, and with "minor adaptions" can be easily turned into 2 independent ones, of 4 bedrooms and 3 bathrooms and 3 bedrooms and 2 bathrooms.
The judge stated that as no action had been taken against the wife by her parents-in-law, it was deducible that they do not want to dislodge her or the couple's 2 children from the property. Recognizing the "suspicions that might arise initially" from the decision, she said that in the long term it would be more beneficial for the children, aged 6 and 7, given that their father's offices are in the lower part of the building, and this will make it easier for the girls to see him.
Potentially uncomfortable encounters in the stairwell present "the lesser of 2 evils in view of the economic situation presented by both parties," the judge ruled.
The cost of the building work will fall on the husband as a prerequisite for his occupation of the smaller of the two resulting apartments. The judge said her decision was based on the "difficult economic panorama" laid out by both sides. She also asked the mother to review the €7,135 a month she is claiming from her husband to keep her and her daughters in the style to which they are accustomed.
Of that stipend, €1,000 would go to her and the rest on her daughters for diverse expenses such as school fees, private health insurance, school uniforms, a maid, padel classes, sailing, horse riding and the cost of attending the social club they belong to.
In her ruling, the judge awarded each girl €500 a month, an amount "compliant with the real necessities of the children in reference to the level of lifestyle that until now the plaintiffs have provided for them, and their accredited economic potential."
The father will be obliged to pay the children's school fees of €1,093 a month until such time as his estranged spouse finds a job, when the duty will fall equally to both.
The mother was awarded a monthly allowance of €650 for a period of 1 year on account of her leaving her work when the couple married because the husband, "a man with a traditional view of the family," convinced her that "the most appropriate thing would be to stay at home and look after the children.