Record passenger numbers at Spanish airports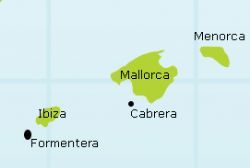 Spain's Airport's Authority - AENA - has reported a significant increase in passenger numbers at both Palma de Mallorca and Ibiza airports for the month of August.
August saw Mallorca's airport welcome a record number of 3'548'285 passengers, representing an increase of 1.6% on the same month last year.
International passenger numbers increased 5.4%, with the Germans making up 35% of the total increase, followed by the British with 23%. Meanwhile the Norwegians accounted for 21% of all passenger numbers, followed by the Swedish (20%), Swiss (11%) and Russians (6%).
For the year to date, Palma de Mallorca has seen passenger numbers grow by 0.5% to reach 16,223,061.
The story was the same at Ibiza Airport, which also set a monthly record for the number of arrivals at 1.162.967 passengers - up 1.8% on August 2012.
August represented the 3rd month this year where a monthly record had been broken, following May and June, which saw increases of 12.3% and 6,8% respectively.
For the year to date, a total of 4,202,907 passengers arrived at Ibiza airport, up 2.2% on 2012. The biggest contributors to such growth came again from the Netherlands with 27%, followed by Germany with 14.5%, and the Brits with 10%.
Recommended Reading
• Spain could be 3rd most visited country in 2013
• Visitor numbers to Spain up 34%
• Spain foreign visitor numbers and expenditure increases