Friday 13th : The return of Corvera Airport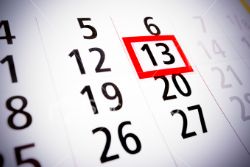 It would quite probably sounds better as the title of some low-budget horror film, but the reality is that last Friday we were promised "news" about Corvera airport later today.
Prior to the weekly meeting of the Regional Government of Murcia last Friday, the Minister for Bullshit, Antonia Sevilla, told the press that a decision concerning the future of Corvera International airport 'Could' be made that afternoon.
The Minister , who actually claims to be responsible for 'Public Works' in the region, did manage to present his case to colleagues to propose that the current concession holder for the airport, Aeromur, had their contract to operate the airport terminated, however any decision to proceed with this was postponed until today.
Friday the 13th.
Whilst Sevilla remains confident that there is still sufficient time to terminate any existing contract with Aeromur, and issue tenders and award contracts by the December 31st deadline, the clock is obviously ticking.
Will there be positive news from Murcia this afternoon, or another case of the mysterious shifting deadline ?
Recommended Reading
• Murcia 'could' make Corvera Airport decision today