Sacyr Seeks Air-Traffic Controller for Corvera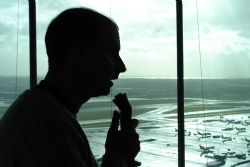 Aeromur, the troubled consortium behind Corvera Airport, led by Sacyr, have posted a job advert seeking an Air-Traffic Controller for the massively delayed facility.
The vacancy, posted on InfoJobs, is specifically looking for a Director of Operations and lists requirements of a minimum of 10 years experience as well as being familiar with the SES (Single European Sky) environment. The successful candidate will be awarded a full-time permanent contract.
The enduring saga which is Corvera Airport has missed several opening deadlines, experienced funding issues as well as difficulties finalising flight paths over the last few years.
As a result, Murcia's Regional Government lost patience earlier this year and moved to have their contract rescinded to operate the airport.
Aeromur hit financial crisis after lenders called in loans for hundreds of millions of Euros used to finance the project. Murcia's regional government, led by regional president Ramón Luis Valcárcel, provided two year bank guarantees to those loans, but refused to extend the credit line further.
According to Spanish newspaper La Verdad, the job vacancy was posted, despite full knowledge that Valcárcel and his administration were making moves to rescind their contract, to show that neither Sacyr nor Aeromur had lost interest in the project sources claimed.
A cabinet meeting of was scheduled today in which Corvera Airport was the main topic for discussion.
Recommended Reading
• Sacyr InfoJobs Vacancy in English