Brit Expats in Spain compared to Eastern European Immigrants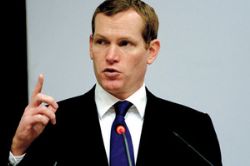 The UK's Home Office Minister has spoken out against the Government's recent policy of encouraging illegal immigrants to return home.
Jeremy Browne insisted that neither himself or Deputy PM Nick Clegg - both Liberal Democrats - were consulted in the controversial move by Conservative PM David Cameron.
In an interview with the New Statesman, Browne went on to say how the influx of Eastern European Immigrants were "only complying with the same rules as British people who live in Spain".
Perhaps the Minister should be in a better position than most to be aware of the fact that UK offers a generous Welfare system and access to the National Health Service to all EU citizens legally resident in the UK.
Perhaps the Minister would also like to look at and compare the benefits offered to UK citizens resident in Spain before making such comments to the press.