Spain angered by Latvian PM's Catalonia comments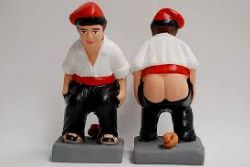 Spain's foreign minister has called in the Latvian ambassador for consultations after the PM of the Baltic state made statements about Catalan independence, Spain's foreign ministry said in a statement on Friday.
Thousands of Catalans formed a 400-km human chain on Wednesday, demanding a referendum on breaking away from Spain. The chain was inspired by a 1989 demonstration in the Baltics calling for independence from the Soviet Union.
Support for independence in wealthy Catalonia has surged in recent years as many people in the region claim they are unfairly taxed and their language is not respected.
Spain's central government says it will block a referendum.
Asked if Latvia would recognize an independent Catalonia, Latvian Prime Minister Valdis Dombrovskis told the Catalan News Agency: "Provided there is legitimacy of the process, I would say, theoretically, why not?"
In an audio clip of an English-language interview on the agency's website, he also said Latvia had no formal position on the issue.
The Latvian ambassador had been asked to call in on Monday to explain the prime minister's statements, the foreign ministry said.
No one answered the phone at the Latvian embassy in Madrid on Friday evening.