Spain expects 3.7% more passenger arrivals this Winter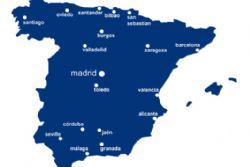 Airlines have scheduled a total of 81 Million passenger seats with Spain's airports for the Winter 2013-2014 period (27th October - 28th March) - up 3.7% on the previous season.
By individual airports Madrid-Barajas will welcome over on-quarter of all passengers at 21% - increasing 1.9% on last year. Barcelona-El Prat will see over 16 Million passengers, up 5%, Malaga-Costa del Sol expects to grow 10% with 4 Million passengers.
The Costa Blanca's Alicante-Elche airport is predicted to see an increase in passenger numbers of 13.4% at 3.5 Million.
A further increase in capacity has been scheduled for Tenerife Sur (5 Millions, +16.3%), Tenerife Norte (2 Million, +6,3%), Gran Canaria (6 Million, +13%), Fuerteventura (2 Million, +14.7%) and Lanzarote (2.5 Million, +20.8%).
The total number of flights scheduled for the Winter 2013/2014 period is set to exceed 500'000, or 0.5%.