Gibraltar v Catalonia : Spain's double standards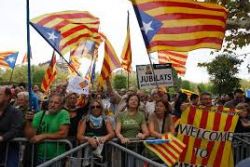 PM Mariano Rajoy on Saturday offered to hold talks with Catalonia, but gave no indication he would allow the wealthy northwestern region to vote on independence.
The offer of talks was made in a letter sent to the head of Catalonia's regional government, Artur Mas, only three days after hundreds of thousands of Catalans formed a 400-km human chain to push their independence bid and demand a referendum.
Growing calls for secession from Spain in the region of 7.5 million people has added to pressure on Rajoy, who is already mired in a corruption scandal and seeking to drag his country out of recession.
"I am convinced of the exceptional relevance of Catalonia for Spain and of the richness, plurality and singularity of the Catalan society," Rajoy said in the letter.
"I also believe that our ties cannot be broken without huge ...economic, political and social costs."
"And, of course, I also want to pass on the strong belief of my government that we need to work together to strengthen these ties and move away from confrontation," he added.
Rajoy and Mas met in secret in August to end a year-long standoff over the referendum and greater tax powers for the region, but they have made little progress and largely disagree on the nature and the scope of the talks.
Rajoy did not specify which issues should be part of the proposed talks. He has said in the past that a vote on Catalan independence would be unconstitutional and has pledged to block it in the courts.
Although he made no direct reference to a possible referendum in the letter, his office said his position remained unchanged.
Mas said earlier this week he would be ready to negotiate a new tax regime more favourable to the region, but insisted it would not be enough and that a vote should also be held.
He has threatened to call an early election and use it as a plebiscite on secession if Rajoy uses the courts to block a referendum. Polls show backing for secession has risen steadily in Catalonia, with some recording support as high as 50 percent.
It perhaps demonstrates a shocking case of Spain's hypocrisy and double standards, with action taken over 2 seemingly unconnected issues contradicting each other : On one hand Spain is "keen to avoid confrontation" with Catalonia, and offering a peaceful solution to retain what it stands to lose, on the other hand it does not seems too bothered about avoiding confrontation with the UK over Gibraltar.