Spain deficit cutting 'on target'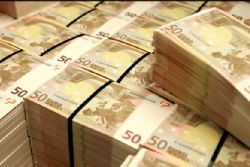 Spain's budget deficit is heading towards the year-end target of 6.5% of economic output and the government is not considering any major new fiscal steps, Economy Minister Luis de Guindos said on Monday.
De Guindos, who was speaking to a group of foreign journalists in Madrid, was however careful to avoid saying the government would definitely hit its end-2013 target.
The government, which has been battling recession and a 27% unemployment rate, has implemented wide-ranging budget cuts to slim the deficit from 7% of GDP in 2012, and Spanish borrowing costs have been falling.
"The tax take is recovering ... We are also seeing a very important saving in the interest rates on Spanish debt ... In addition, we're seeing good signs for town halls, not only in 2013 but also at the end of 2012," De Guindos told reporters at a news conference in Madrid.
"What I can tell you is that the public deficit is moving towards the nominal target of 6.5% and that no additional measures are going to be taken as they are not necessary."
The economy is expected to emerge from recession in the 2nd half of this year and De Guindos said that at the end of this month the government would increase growth forecasts and reduce unemployment estimates for 2014.