Spain to see 6th Travelodge open tomorrow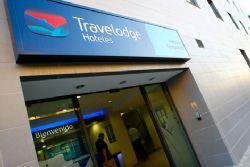 Budget Hotel chain Travelodge is to open it's 6th Hotel in Spain tomorrow.
The Group's 3rd Hotel in Madrid has cost the company €12 million, and boasts 98 rooms with a starting price of just €29 per night.
The largest Travelodge Hotel in Spain complements a further 2 Hotels in the capital, 2 in Barcelona and 1 in Valencia, and brings the group's total investment in Spain to €80 Million.
Travelodge MD Paul Harvey spoke of how the on going financial difficulties experienced across Spain had seen a shift of popularity towards Budget Hotels : "Spaniards want their euro to work hard for them, and as a result they are making savvier choices so that they can obtain real value for money. He added: "We believe the opportunity to grow in Spain is still huge as the branded budget hotel sector represents just 2% of total hotel stock. This is substantially lower than other European countries such as France which is 24% and the UK which currently stands at just under 20%.
Mr Harvey spoke of how the group was interested in further expanding it's presence in Spain to include cities such as Granada and Sevilla.