Spanish Business Shows Signs of Improvement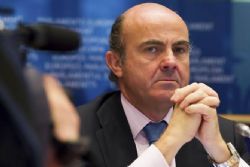 Leading trade companies in Spain reported improvements, economic newspaper Expansion reported on Monday.
Trading companies such as El Corte Ingles, Ikea, Mango, Cortefiel, Dia and Eroski saw this summer the first signs of improvement within the Spanish economy because of an increase in their sales, when compared with the same period of 2012.
After 37 months of decline in domestic demand in the country, Expansion reported, these companies said the demand improved since the summer and they expected an increase in sales in the second half of 2013 when compared with the same period of last year.
According Expansion, the second half of 2012 was one of the worst periods for the Spanish economy after the government had increased IVA by 3 points and lowered wages of officials, which along with high unemployment, undermined Spaniards' purchasing power.
Despite the optimism, companies are prudent because the economic situation is tough and consumer confidence is considerably below the level considered as optimistic.
The CEO of Cortefiel (Spanish textile company), Juan Carlos Escribano, said "overall sales in the summer showed a slight recovery, a trend that could consolidate in the coming months." Textile companies highlighted the positive impact of extending opening hours, areas and days, which gave shops more freedom to sell.
Meanwhile, the Ibex-35 stock market in Madrid rose by 0.65% on Monday closing time, while Spain's risk premium fell to 248 points, when the Spanish stock market reached the highest level for the 4th consecutive time in a year.