Photographer Gored at Bull Death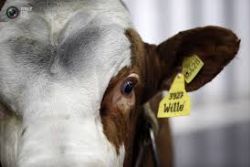 Poetic justice was delivered earlier today when an AFP press Photographer was gored by a Bull at an annual Fiesta in Valladolid.
Pedro Armestre was gored as he attempted to capture images of the 580kg Bull as it was being hunted down and eventually killed by a gang of spear-wielding locals on horseback.
Despite activists presenting a petition of more than 85'000 signatories to Parliament demanding that the event be banned, the Town of Tordesillas (Population 9'000) has been allowed to continue with the centuries old tradition.
Along with a total lack of sympathy for anyone wishing to glorify the suffering of an animal under such circumstances, there must also be a lack of sympathy for anybody deliberately placing themselves in the path of a highly distressed half-ton animal.
Similarly, it has to be asked why such an event is permitted to continue for no other reason than "tradition". The Ancient Mayans and Aztecs managed to leave aside their tradition of ritual sacrifice centuries ago, surely it isn't too much to ask Spain to do likewise ?
Recommended Reading
• Spain's Pamplona Bull-run ends in stampede
• Youtube pulls Spain Bullfighting clips
• 13'000 Bulls killed for 'Sport' in Spain each year