Sagrada Familia to be completed by 2026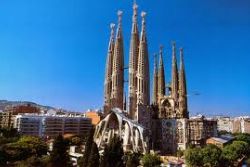 Jordi Fauli, the Architect currently in charge of Barcelona's Sagrada Famila, has confirmed that the Basilica should be completed by the year 2026.
Construction began in 1882 under the auspices of legendary Antoni Gaudi and was ambitious from the outset, with it's 18 towering spires dedicated to the 12 disciples, the 4 Apostles, Jesus and Mary.
Although there is around one-third of the project still to be completed, Fauli announced that, if the rate of funding continues in line with construction work, the building will be finalised in just 13 years.
The 'Minor Basilica' - which differs from a Cathedral as it does not have it's own Bishop - was officially inaugurated by Pope Benedict XVI on his visit to Spain in 2010.
Despite being one of Spain's most important places of worship for the Catholic faith, the Vatican is yet to put it's hand in it's cassock, as all construction work is funded by entry fees and donations from the public.