Spain Public Debt reaches 92.6% of GDP by end July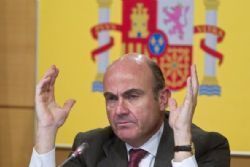 Spanish public debt reached €947.184 billion in the first 7 months of the year, representing 92.6% of Spain's GDP, the Bank of Spain reported on Tuesday.
The debt surpasses Spanish government predictions for 2013 - 91.6%of the country's GDP - by 1%.
In annual terms, Spain's public debt increased by 17.8% when compared with the same period of 2012, when the debt had reached €803.975 billion.
On Friday the Bank of Spain reported that Spain's public debt had reached 92.2% of the country's GDP in Q2 of 2012, which meant that the Spanish public debt increased from representing 92.2% of GDP to represent 92.6% in just 1 month.
Despite the data, U.S. bank Morgan Stanley published a report where experts recommended investing in Spain's public debt, rather than that of Italy, Germany or France.
The American bank said the economic situation in Spain is better than that of Italy, while labor costs in Spain are lower than in Germany, Italy or France which helps the country improve its competitiveness.
The bank also sees as a very positive aspect that Spain is expected to leave economic recession behind since Q3 of 2013.
Meanwhile, the Bank of Spain reported on Monday Spain's public deficit reached €54.293 billion from January to July without taking local governments into account.
This figure represented 5.27% of the country's GDP and it is slightly below the 2013 deficit target of 6.5% required by the EU.
Spanish Minister of Economy Luis de Guindos insisted on Tuesday that he "is convinced that data will show how the deficit of Spain's public administration is heading towards 2013 deficit target of 6.5%."
However, the PSOE believes that the figure of public deficit of the first seven months of the year is "very worrying" and shows the failure of the government's economic and social policy.