EU to investigate Gibraltar dispute next week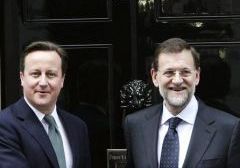 The EU will send a team to investigate the border dispute between Spain and Gibraltar next week, Britain's Foreign Office said on Tuesday.
Officials from the European Commission, the EU's executive arm, will visit the British overseas territory on September 25 to look into what caused a summer of tension at the frontier that has strained relations between Madrid and London.
Spain lays claim to the territory, which has a population of 30,000, which it ceded to Britain by treaty 300 years ago.
The team will "assess the border controls, free movement of people and goods, including fraud and smuggling", the Foreign Office said, citing an EU document given to its officials in Brussels.
They will also check Spanish complaints that Gibraltar impeded its fishing boats by dropping concrete blocks into disputed waters off the territory. Gibraltar said it had created an artificial reef in the Mediterranean to protect fish stocks.
"We welcome this confirmation that a monitoring mission will be sent," a Foreign Office spokesman said. "We stand ready to offer all necessary support to ensure that the mission can conduct its investigation successfully."
Spain tightened border controls over the summer in retaliation for the reef, causing long tailbacks, and threatened to take further action, including a €50 border levy.
PM David Cameron condemned the threat and said Britain was not prepared to discuss Gibraltar's sovereignty.
Opposition parties in Spain and Gibraltar's Chief Minister Fabian Picardo have accused Spain's ruling centre-right government of using the conflict to distract voters from the weak economy and a corruption scandal involving senior politicians.
Read previous news articles concerning the recent conflict over Gibraltar by clicking the link > HERE <