Hacking Group Anonymous Targets Brutal Bull Slaying Fiesta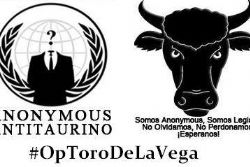 Hacking Group Anonymous Target Brutal Bull Slaying Fiesta International hacking group Anonymous has targeted a Spanish tourist information website which promotes a brutal bull slaying fiesta.
Todesillas, a small town just outside of Valladolid in the region of Castilla-Leon hosts a centuries on traditional fiesta where a bull is released and chased down by spear wielding Spaniards on horseback where it ultimately meets its fate in front of a cheering crowd.
Angered by the brutality involved and the apparent lack of will from politicians to outlaw the attraction, Anonymous hacked into a popular tourist website for the town and posted a statement highlighting the hypocrisies of Spanish culture and criticising the parents who teach their children in brutal sports such as bullfighting.
The post signed off with the statement "We are Anonymous. We are Legion. We do not forgive. We do not forget."
The Todesillas fiesta attracts thousands of spectators who traditionally get involved themselves and make handheld weapons with nails, wood and pretty much anything they can use to inflict serious harm to a bull.
Many fiestas across Spain have some form of entertainment involving bulls. Whilst most do not actually result in death for the animals, almost all inflict some kind of torture, injury or stress.
There are many calls, both nationally and internationally to end bull related entertainment, especially within fiestas and the Spanish national sport of Bullfighting.
The region of Cataluña outlawed bullfighting from 1st January 2012, however there is a movement to have the ban overturned through the Spanish Parliament and appears to be gaining momentum, backed by the majority of Parliamentarians.
Spanish animal rights group, Pacma, has called the Todesillas tradition "savage". The group handed a petition to Parliament with 85,000 signatures demanding it be banned.
Recommended Reading
• Anonymous post on Tordesillas Turismo (English translation)
• WIKI: Cataluña Bans Bullfighting
• Photographer Gored at Tordesillas Bull Fiesta
Have your say...
Bullfighting and fiestas involving bulls are fiercely defended by traditionalist Spaniards, but does it have a place in modern Spain? Is it time for Spain to hangup its Muleta? Have your say in the comments below...