Train Crash Injures Twenty Two in Barcelona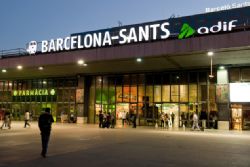 A spokesman for Spanish state rail operator RENFE has confirmed a train accident occurred this morning injuring 22 people at a train station in Barcelona.
RENFE spokesman, Antonio Carmona, said the incident occurred at 10:05 am this morning at Barcelona Sants station where a commuter train collided with a stationary train.
The exact cause of the crash has yet to be established, however injuries were minor bruises with only 10 requiring treatment. None of the injured 22 passengers were hospitalised.
This latest incident to mar RENFE comes little more than 2 months after the devastating rail disaster just outside of Santiago de Composetlla, Galicia which killed 79 people and injured hundreds more.
Investigations are continuing into the Santiago de Composetlla tragedy and major rail improvements are being implemented, specifically to automated electronic safety equipment, tightening speed controls on hazardous sections of track with similar characteristics to the track in Santiago de Composetlla and in some cases, completely redesigning track to improve safety.
Recommended Reading
• Train Driver on Phone Moments Before Fatal Crash
• Spain Reviews Rail Safety Following Fatal Crash