Spaniard Exposes Apple iOS 7 Vulnerability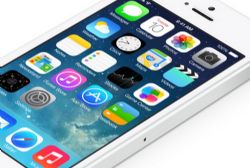 Jose Rodriguez, a 36-year-old soldier living in the Canary Islands has exposed a security vulnerability in Apple's new platform software iOS7.
The much anticipated platform update, released on Wednesday this week for the iPhone and iPad, has been met with a lukewarm reception by iPhone users who have criticised the new interface as being teenage like and difficult to use. Apple users for years have been used to a crisp, fluid and easy interface.
According to Forbes, the Spanish soldier identified that it is possible to bypass the lock screen of those devices in seconds to access photos, email, Twitter and other applications. A video was posted on
YouTube
with demonstrates the vulnerability and advice on how to overcome the bypass method.
Meanwhile, Apple's latest iPhone 5S went on general sale today which incorporates a new finger-print scanner and improved security. Apple's renowned attention to detail has deeply focused on security over the past few years as their desirable products become more and more an integral part of everyday life for many users.
Trudy Muller, an Apple spokeswoman, told Reuters that the company was preparing a fix for the vulnerability that it would deliver as an update to iOS 7 when it was ready. "Apple takes user security very seriously," she said.