Rajoy's Recovery Master Plan Undermined by Slowing Export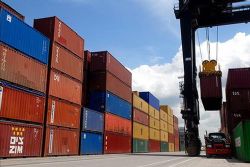 New data released by the Economy Ministry in Spain has revealed growth in exports is loosing pace and threatens to undermine Prime Minister Mariano Rajoy's recovery master plan.
Since coming to office, Rajoy has pinned his hopes on Spanish exports to drag Spain, the fourth largest economy in Europe, out of a double dip recession and back into economic stability.
Whilst figures have been steady and showed promise, many European nations have instead focussed on small to medium sized businesses, entrepreneurs in addition to exports as a means to recovery which is bearing fruits.
However, whilst the figures rose1.3% in July 2013 compared to the same month of 2012, overall growth on the month showed a 4.7 decline indicating that pace in Spanish exports are weakening and threatening to scupper Rajoy's belief his country would come out of recession by the end of the year.
Spain, which is at the centre of the European Union's economy woes, has improved competitiveness by implementing tough new legislation and changing employment laws.
With more than 25% of the working population unemployed, promising figures are yet to be translated into jobs and much of the unemployed population are turning to cash-in-hand jobs or even crime as a means to survive the crisis.