Spain Government proclaims 'start of recovery'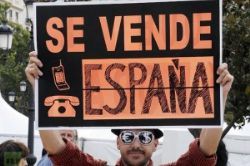 Spain's trade deficit fell 67.5% in the first 7 months of this year thanks exports which rose to "a new historic high" of €138.58 billion, the Ministry of Economy and Competitiveness announced on Friday (yes, apparently somebody takes responsibility for this).
The country's trade deficit totaled €6.61 billion between January and July, which in annual terms meant that the deficit was down by €13.7 billion from the €20.3 billion recorded in the same period last year.
Exports broke a record high as they increased by 7% in the first 7 months of the year to €138.6 billion, the Ministry said. In particular, exports of equipment increased by 15.8% to €29.2 billion.
However, Imports decreased 3.1% to reach €145.2 billion, with energy products - representing 23.5% of the total - falling by 5.6%.
The Ministry emphasized the increasing role of non-EU markets as the recession-hit country rode a boom in exports.
The Spanish government said Spain would start to grow by the end of 2013, pointing to the exports performances as a sign of recovery.