Valencia moves forward with Airport privatisation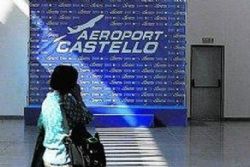 The Regional Government of Valencia has approved the process to privatise the operation and management of Castellón airport for a period of 10 years.
The tender for the contract, which is due for release in early 2014, is expected to generate revenues of between €2.5 and €2.7 million per year. for the Generalitat Valenciana, who owns 99% of the airport.
However, José Císcar - President of Aeromur and Vice President of the region - confirmed how the Ministry of Development needs to grant permission before the final stage of the process can be completed.
A number of works at the airport must also be completed, in accordance with specifications laid down by Aerocas, which are expected to cost around €12 Million.
Ciscar also went on to say how a number of companies have expressed an interest in operating the airport, however there has been no interest for an outright purchase of the facility to date.
The Hispano-Libyan offer to purchase the airport made earlier this year was discounted due to their not holding sufficient financial guarantees.
Read further Castellon Airport news by clicking the link >> HERE <<.